The Canon CR-DGI Retinal Camera is an advanced technology that Dr. Marshall uses to capture high resolution images of the retina allowing earlier detection and diagnosis of a wide range of ocular conditions and diseases. It also allows the best way to monitor conditions over time.
---
The Topcon C5000 Digital Eye Exam system provides the most advanced digital eye exam possible. This Digital Refraction System replaces the manual refractor and allows Dr. Marshall to control the refraction process by computer. This technology enhances your experience through a faster, more modern exam, while minimizing the boring process of choosing "which is better: one or two?". The Topcon Digital Refraction generates extremely accurate and reliable refractions, minimizes patient/doctor variability, and provides you with the most precise, digital prescription lenses possible.
---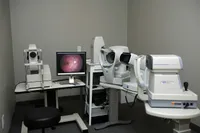 The Zeiss Matrix represents the latest in visual field testing. Visual field testing is critical for treating and managing patients with glaucoma and other conditions that cause peripheral vision loss. The Matrix Perimeter utilizes a significant breakthrough in visual field testing by combining early glaucoma detection capabilities, tools to characterize glaucoma, and glaucoma management tools. The Humphrey Matrix Perimeter comes equipped with Glaucoma Hemifield Test and serial field overview software for comprehensive threshold exams and charting change over time.
---
The Ziess Corneal Atlas 9000 Topographer provides a detailed map of the curvature of the front surface of the eye, known as the cornea. Since the cornea is responsible for approximately 70% of the eye's refractive power, its shape and curvature is critically important in determining our quality of vision. A three-dimensional map of the cornea is created to assist in the diagnosis and treatment of a number of conditions: in planning for cataract surgery, refractive surgery such as LASIK, in assessing the fit of contact lenses, and in diagnosis of corneal diseases such as keratoconus. Corneal Wavefront Analysis takes vision to a whole new dimension by measuring higher-order corneal abberrations.